Line up
Delios-E(Cartridge)
Model:SD8C-2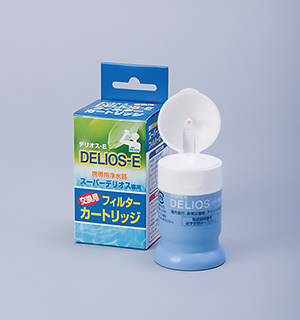 Super delios(Main parts set)
Model:SD8S-2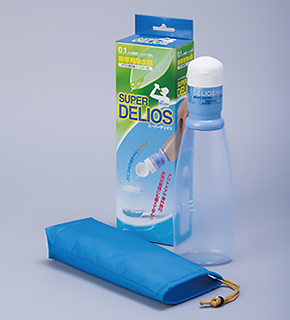 *image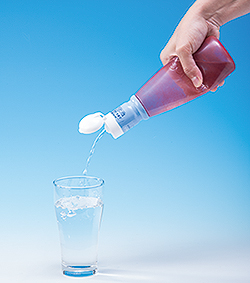 Easy! Speedy! High performance!
Portable water purifiers that can be used for disaster prevention, outdoors and other purposes.
A high-performance hollow-fiber membrane filter with ease of use and 0.1-μm pore size that can be easily used anyone
A 0.1μm hollow fiber membrane filter firmly removes harmful bacteria, miscellaneous bacteria, mold, turbidity, etc. In addition, fibrous activated carbon removes odors such as chlorine and mud.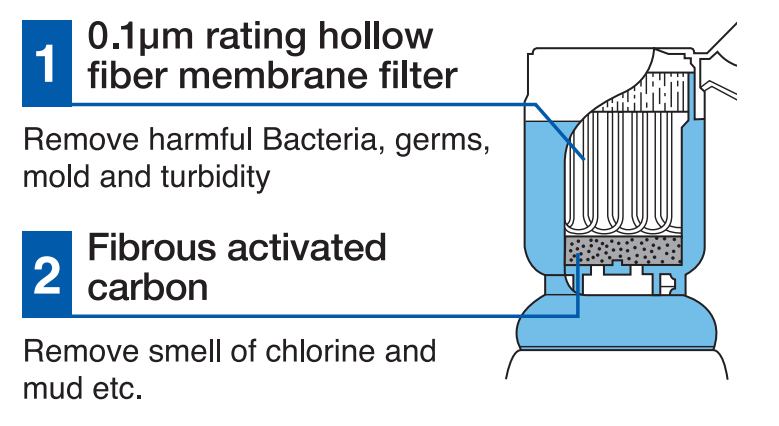 Procedure for use
1. Pour the raw water in a container.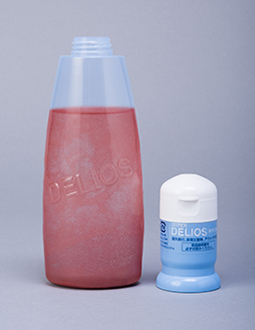 ※ The photograph shows raw water containing red rust.
2. Set the filter in the container.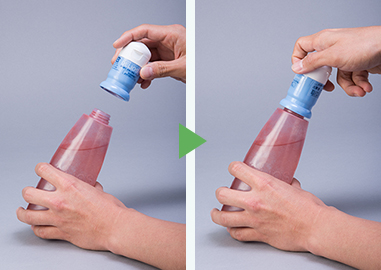 3. Hand presses can easily ensure water purification.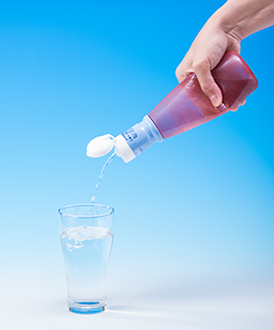 Click here for video(*Japanese)
It is compatible with most domestic PET bottles.
It is compatible with PET bottles and can be used for reuse of expired stored water.
※ Except for some foreign products.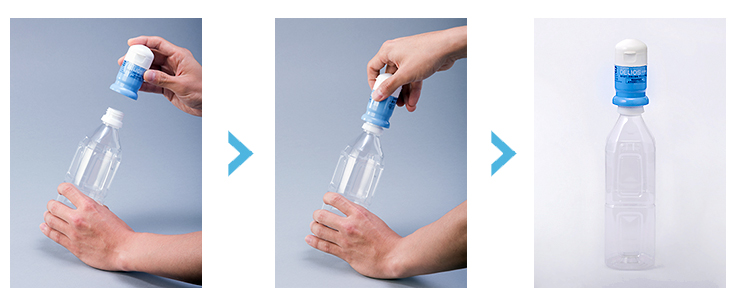 Various uses and applications
Disaster Measures : Ensuring Drinking Water, Cleaning Injuries and Cooking applications
It is available for cleaning and cooking injuries as well as drinking water.

Outdoor
Harmful bacteria, protozoa, and floating organic substances in rivers are also removed.
It can be used for climbing mountains, mountain stream fishing, etc.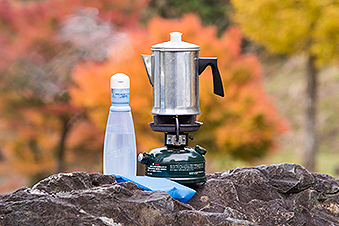 Specifications and Performance
Product code
Super delios
Filtration material
Polysulfone porous hollow fiber membrane (pore size : 0.1μm), fibrous activated carbon
Hollow fiber membrane housing material
ABS resin
One-touch cap material
Polypropylene
Material and capacity of container body
Polyethylene, 300ml
Filtration performance
Approximately 200L (using tap water at 20℃ in Gifu City)
※ The values depend on the water used.
Filtration flow rate
300ml / of about 18 seconds (same as in). (Hand press : at the beginning of 0.2kgf / cm2 use)
※ The values depend on the water used.
Size
Main parts set:Height 233mm x width 70mm x depth 50mm
Cartridge:Height 76mm×44mm in diameter

Weight
58g (full-water 358g)
Dedicated pouch
Nylon
※ Specifications and externalities may be changed without any notification.


Precautions
This product cannot remove substances dissolved in water or all hazardous substances.
This filter does not guarantee the health of the user. Use for water that is as safe and sanitary as possible on a self-responsibility basis. In addition, we are not responsible for any damage that occurs directly or indirectly or for any incidental damage.
Do not use hot water over 40°C.
Please use for water to flow with several seconds before use. Dirt near the nozzle will flow out and then get cleaner water.
If you keep it for a long time in case of disaster, please avoid direct sunlight, hot temprature and high humidity.
"DELIOS" is a registered trademark of KITZ MICRO FILTER CORPORATION