Purifree


Low Cost, and Free of Cartridge Replacement Hassle!
This powerful, High-performance Model Delivers
Outstanding water purification Capability!!
Removes 13+2 substances for dependable cleanliness.


if purified water is output in excess of filtration volume, it is very likely that output water will not have the indicated substances thoroughly removed. To obtain full performance, use at an appropriate water flow , not exceeding the indicated volume.


The amount of water that can be purified by one Purifree cartridge is equivalent to around 3,500 two-liter PET
bottles.
when used for two years at a rate of approximately 10 liters per day.




Specification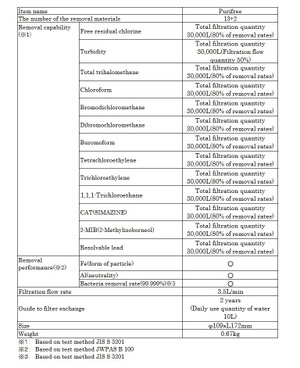 Construction