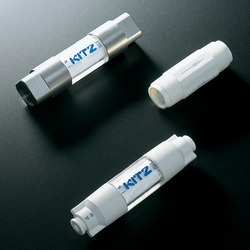 | Feature | Benefit |
| --- | --- |
| High Performance Hollow Fiber Membrane | The excellent Particle Removal Efficiency. Long Service Life High Flow Rate and Low Pressure Drop |
| Compact Design | Small Space instalation in Plants and equipments. |
| Variety size of Fitting . | Aplly for Variety kinds usages Quick and Convinient filter change One-touch tube connection type |
| Hydrophobic | Removal of the drain |
Characteristic
Our in-line filter product line-ups are using hydrophobic Polypropylene hollow fiber membrane for filter media.
high retention 0.01 μm filter media can remove bacteria, various particles, and water droplets from air.
Long filter life, compact design, and various product line-ups for required flow rate and connection method.

NEW HI-MINI AIR FILTER is in-line filter of an easy hollow fiber to install.
NEW HI-MINI AIR FILTER can make very clean air.
It can install easily in exiting piping, and is used for the protection of the equipment.

Specification
Tube connection size
PT3/8
φ4 OD
φ6 OD
φ8 OD
Rc1/4
Operation Temperature
5℃to 50℃
Maximum Operation Pressure
1.0MPa*
Fluid
Air and Nitrogen
Filter area
110c㎡
Pore size
0.003μm**
Flow rate (at 0.3Mpa)
90L/min
60L/min
80L/min
90L/min
90L/min
*when temp is 20℃. if temp is 50℃, max operation pressure is 0.8 MPa.
**Depends on our measurement conditions
Application
Precision Measuring Instruments and Analitical Equipment,
Semiconductor Manufacturing Equipment
Printing/Painting Equipment
Medical/ Dental / Food Processing Equipment

Concrete Example
Foreign matter removing
・Foreign matter removal of compressor air
・Foreign matter removal of factory compress air piping
・Foreign matter removal of use point
・Foreign body removal in tube piping of transportation device suck pad
Removal of drop of water(drain)
・Drop of water removal of compressor air
Removal of bacteria in supply air
・Filter in piping of medical unit and dental unit
Protection of equipment
・Protection of instrument for analysis and precision instrument
Filtration of the gas for prodcut filling
・Filtration of the nitrogen gas for filling
Dimensions