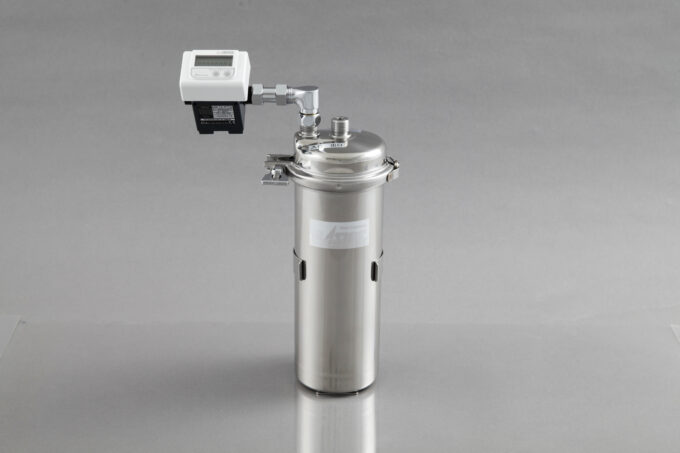 Recommended for coffee shops and sushi restaurants that require delicious water that further enhances flavor!
This is a full-scale water purification unit.
Hollow fiber membranes remove bacteria and antibacterial activated carbon remove bad smell such as chlorine.
Delicious noodles and coffee are confidential weapons for the taste for clients.
LOAS-3 (with integrated flow meter)
LOAS-N3
Water treatment capacity 30,000 liter
The approximate terms of replacement cartridge : 1 year using 80 liter per day
Excellent water purifier because it can filtrate odor and bacteria!
Flow meter
Reccomend to use integrating flowmeter in order to confirm proper using amount of purified water.

The total amount of purified water used in the flowmeter serves as a guide for the life of the cartridge.
The appropriate replacement timing can be determined by installing flowmeter and you can use it more safely.

※ The battery life of the integrating flowmeter is approximately four years.
The battery is integrated with the flowmeter and cannot be replaced.
Note that a flowmeter with a dead battery will be replaced.
Water is reassuring to remove impurities by three different filter material
The reason why water is safe and delicious is the power of the non-woven fabric, the antibacterial activated carbon and the hollow-fiber membrane with a precision of 0.1μm (0.0001mm) that we developed independently.
These filter material remove impurities contained in tap water and keep mineal and then create delicious water
Removal components of each filter material
It is low running cost because Large-capacity water purifiers for business uses
Water purification capacity provides a safe and palatable water with volume of 10 liters per minute and it is almost same as amount of general tap water.
In addition to drinking water and ice making, it can be used in a wide variety of cooking and cooking tasks with a great deal of comfortable water.