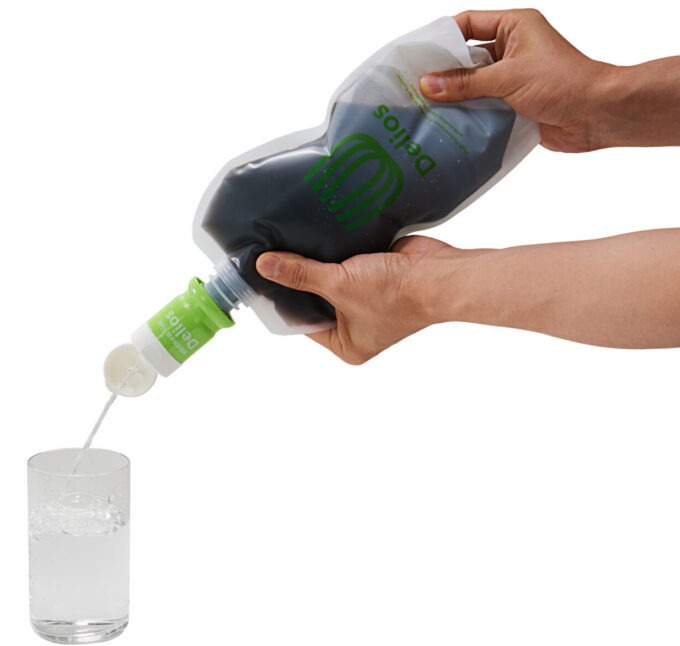 Easy, fast, high performance!
A portable water purifier that can be used for disaster prevention,
outdoor activities, and many other purposes.
Line up
Delios
Code:SD9C-2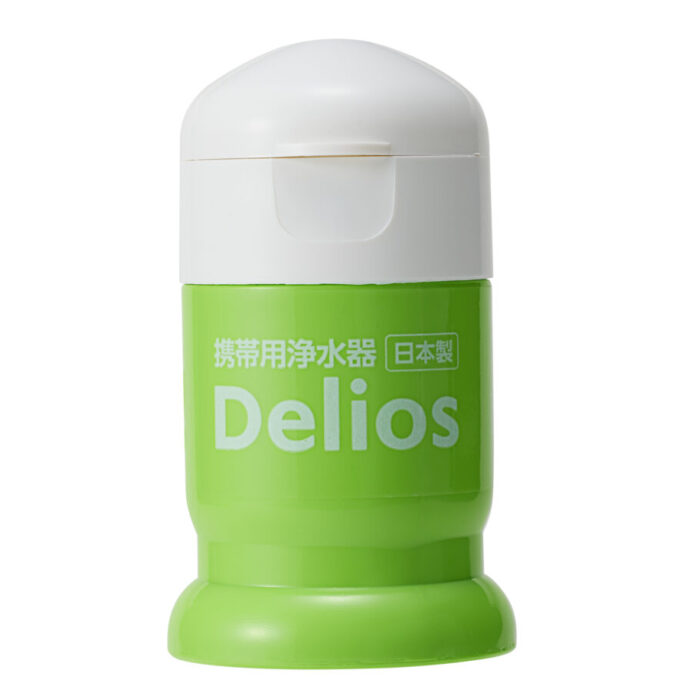 Delios&Water Pack
Code:SD9S-2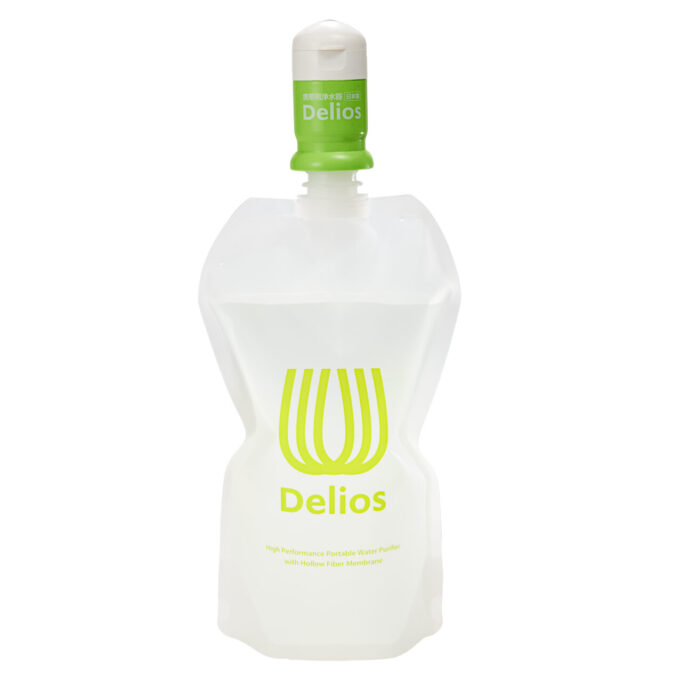 High-performance hollow fiber membrane filter. Bacteria removal rate 99.9999%
Hollow fiber membrane filter remove harmful bacteria, germs, mold and turbidity.
And Fibrous activated carbon remove smell of chlorine and mud etc.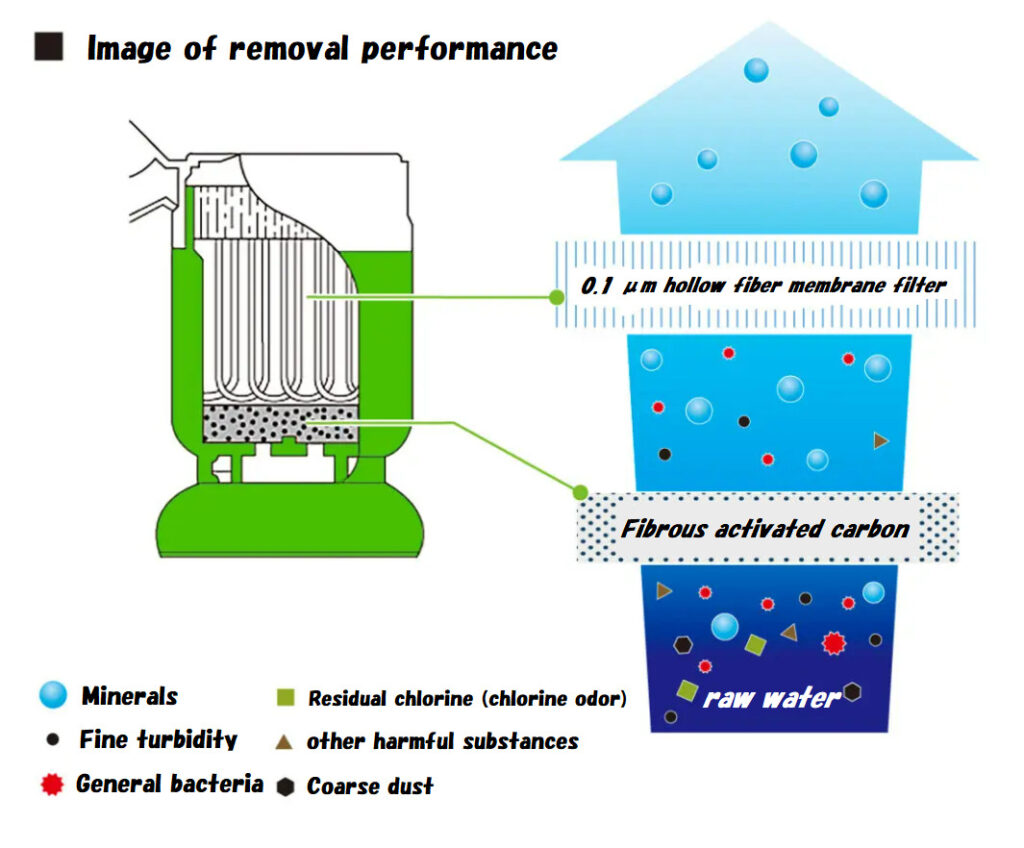 Aluminum packaging
All cartridges are packed in aluminum, and storage performance is enhanced by shutting off external air.
*The product will not deteriorate suddenly even without aluminum packaging.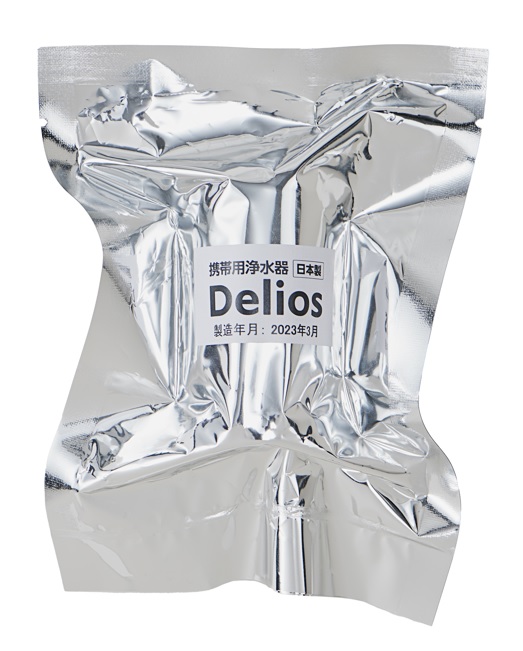 Water Pack(1.2L)
The water pack can be folded for storage and transportation.
In addition, when water is added, the center of the product is hollowed out for easy holding.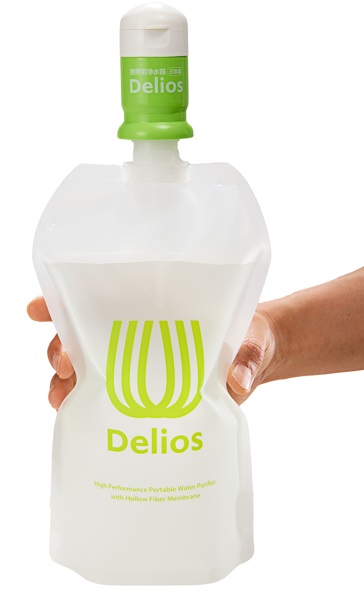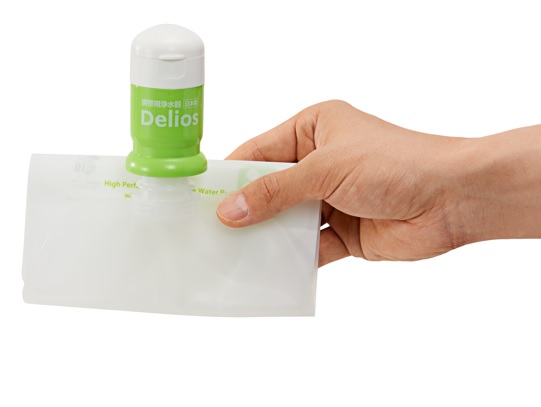 Biomass mark
Printing is also an environmentally friendly product using biomass ink produced by extracting components from bio-based resources (biomass).
Instructions for use
Easy to use!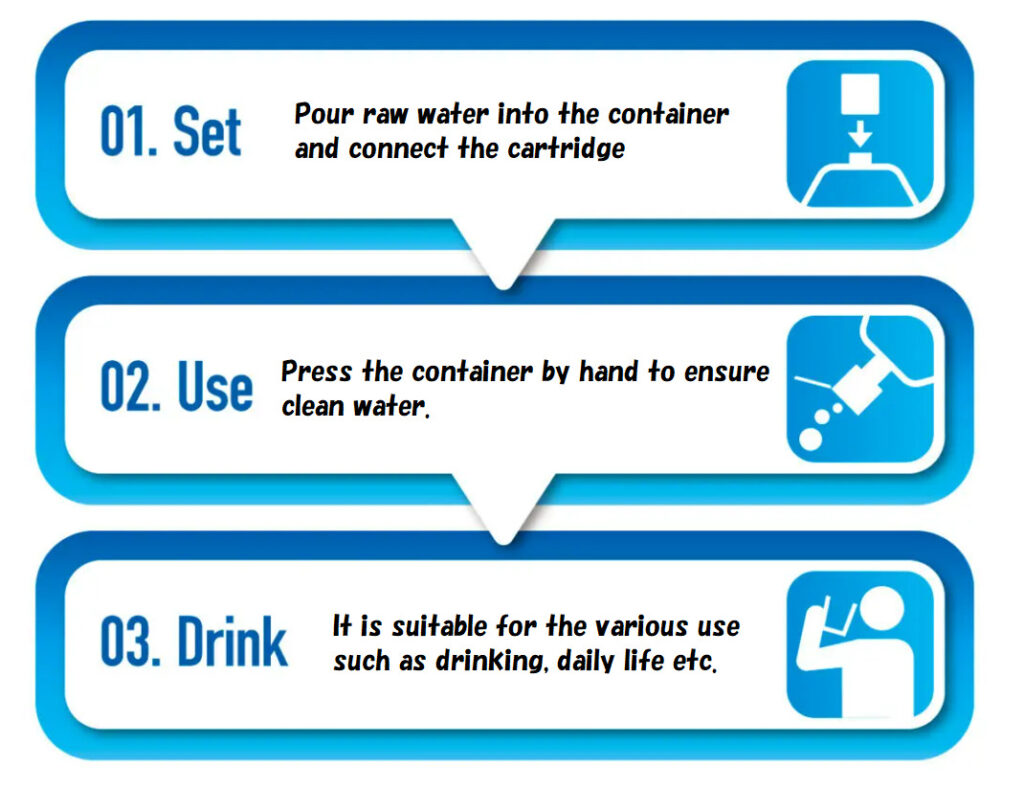 Various usage scenarios and applications
Disaster measures
It can be used not only for drinking water, but also for cleaning injuries and cooking.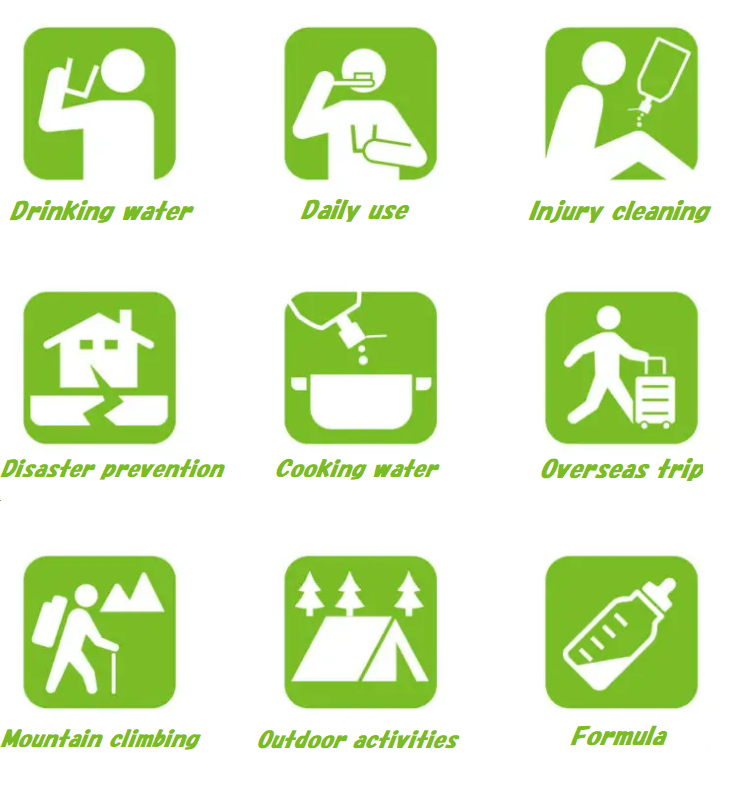 Outdoor
It also removes harmful bacteria, protozoa, and floating organic matter from rivers.
It can be used for mountain climbing, mountain stream fishing, etc.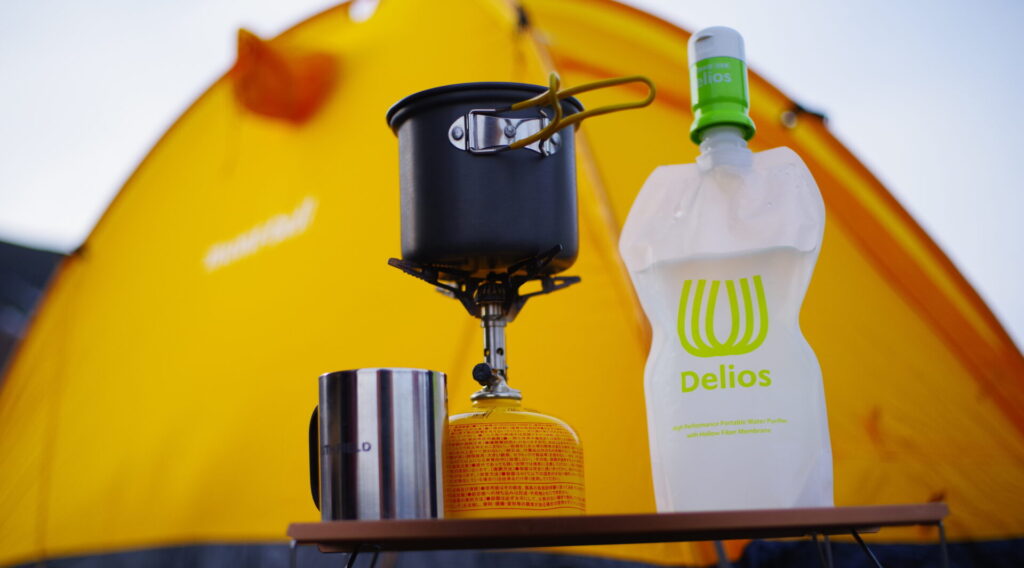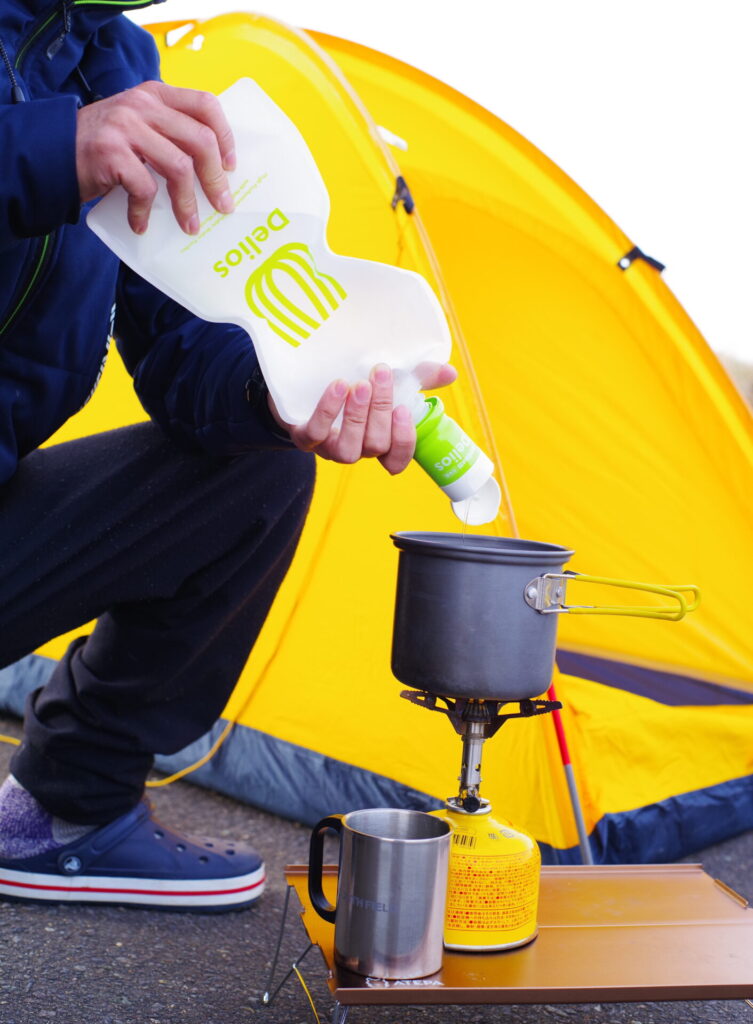 Specifications and performance: main unit set
Product code
Delios & Water Pack (1.2L)
Code
SD9S-2
Filter materia
Hollow fiber membrane (polysulfone), Fibrous activated carbon, Nonwoven fabric
Cartridge body materia
ABS resin
One-touch cap material
Polypropylene
Water pack material
Nylon, polyethylene / Threads: Polyethylene

Water pack cap material
Polypropylene polyethylene

Water pack capacity
1.2L
Water pack usage temperature range
0 to 60℃
Water purification capacity
Approx. 500 L
* Filtering results for test water (turbidity level 2).
* The value will differ depending on the water used.
 1.2 L/min
 (tap water, hand squeezing pressure : Approx. 0.015 MPa at beginning of use)
*The value will differ depending on the water used.

Bacteria removal rate
99.9999%
* Test method: The test results were obtained in accordance with ASTM F 838-20 Standard Test Method for Determining Bacterial Retention of Membrane Filters Utilized for Liquid Filtration.
Size
Cartridge: φ44mm × 77mm
Water pack: W158mm × H250mm
Weight
Approx. 60g (1,260g when filled with water)
〇The specification and package are subject to change without prior notice.
Available water・Unusable water


Precautions for use
●DELIOS cannot remove such things as harmful substances that are dissolved in the water, viruses, or salts.
●This cartridge does not guarantee the health of the user. You are responsible for using water that is as safe and sanitary as possible. The manufacturer of this product shall not be responsible in any manner for any damage or incidental damage that occur directly or indirectly from the use of this product.
●Do not drop the product, hit or bump it strongly, or apply a sudden force or strong force using something other than your hand to the water pack with the cartridge loaded.
●The product is used, allow approximately 300 ml (about 1/3 from the bottom of the water pack) to flow out before using the product.
●Do not use hot water heated to 35℃ or higher
●Discard used cartridges and water packs as directed by the local government.
●When DELIOS will be stored long term for emergency, such as for use during a disaster, keep used and unused components and supplies out of direct sunlight and do not store them in areas with high temperature or humidity.